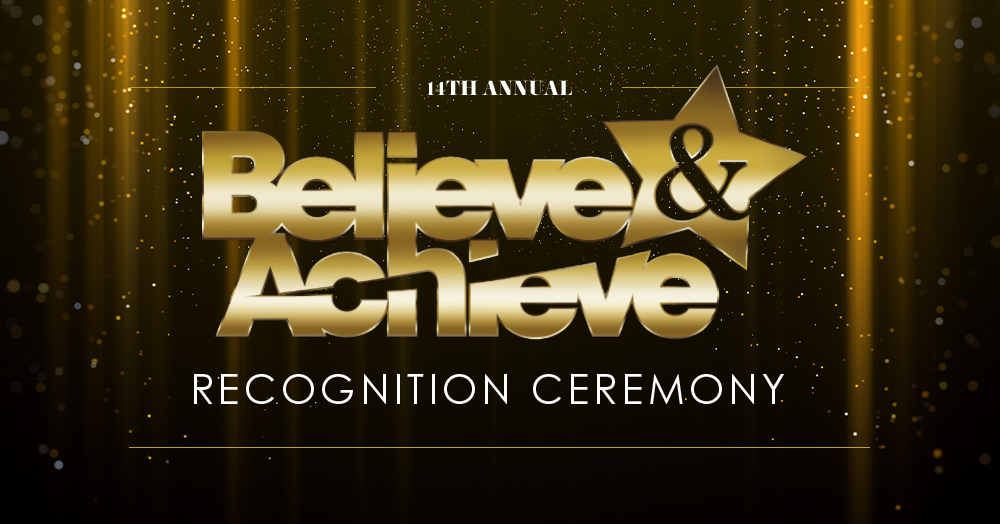 The Believe and Achieve Recognition Ceremony is back! The Believe and Achieve ceremony returns on May 19 and, for the first time, will be presented virtually, allowing you to join the festivities from the comfort of home. The public is welcome to watch this year's event on Facebook, YouTube, or right here on our website. In addition, SEASPAR participants, staff, and honored guests are invited to register for a FREE exclusive Zoom viewing party (see below for details).
SEASPAR's Believe and Achieve Awards is a celebration of participants, staff, and community partners' greatness. The night recognizes individuals and organizations who have excelled in one field or another during the previous year. The night will feature heartwarming speeches delivered by SEASPAR and inspiring acceptance speeches.  Awards being present include Athlete of the Year, Virtual Participant of the Year, and Donor of the year, among several others.
Event
Believe and Achieve Awards Night
Wednesday, May 19, 2021
7:00 pm
Broadcast on Facebook, YouTube, and SEASPAR.org.
Watch it with friends! Register for the FREE Zoom viewing party.
Door Prize (SEASPAR Participants Only)
Although SEASPAR will virtually host this year's event, the first 75 SEASPAR participants who register to attend the FREE exclusive Zoom viewing party are eligible to receive a "door prize" of a gift bag containing fantastic SEASPAR memorabilia*.
*While supplies last. The gift bag is available to SEASPAR participants only. Must register by May 4. Styles may vary. Gift bags will be available for pickup at SEASPAR on select dates. Gift bags must be picked up at SEASPAR, 4500 Belmont Road, Downers Grove, IL 60515. Pickup details will be emailed to eligible participants after May 4. 
Register
Registration is FREE. A link with details on how to join the night's festivities will be emailed after May 4. Registration for the exclusive Zoom viewing party is limited to SEASPAR participants, staff, and honored guests. All other guests are encouraged to watch this year's Believe and Achieve awards ceremony online.
Watch Online
Access to the Believe and Achieve Awards Ceremony begins Wednesday, May 19, at 7:00 pm. Come back the day of the event to watch it online!