SEASPAR hosted its annual Believe & Achieve Recognition Banquet on May 10, 2023, at the Sheraton Lisle/Naperville. The event was a celebration of remarkable participants, community partners, staff, and volunteers who have made significant contributions to SEASPAR's programming for individuals with disabilities.
Participant Recognition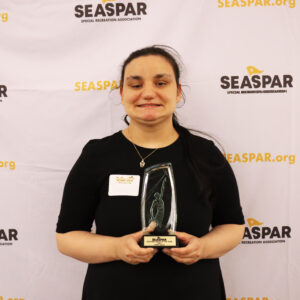 Emily Kula, a resident of La Grange, was honored with the Cultural Artist of the Year Award. Having actively participated in SEASPAR's Actors Guild program for nearly a decade, Kula showcased her exceptional talent in numerous plays and musicals. Her dedication to the cultural arts, coupled with her supportive attitude towards fellow actors, regardless of their abilities, earned her this prestigious recognition.
Allen Rosete, from Darien, received the Athlete of the Year award. Rosete has consistently demonstrated outstanding commitment as a participant in SEASPAR's Special Olympics Volleyball and Swimming programs. As a core server for the Spartans Volleyball team and a competitor in the 50-meter freestyle and backstroke Swimming events, Rosete exemplifies excellence, good sportsmanship, teamwork, and a positive attitude.  Upon accepting the award, Rosete gave "a big thanks to all the coaches, volunteers, who help me a better athlete."
The Rising Star award, which recognizes an outstanding youth participant, was graciously accepted by 10-year-old Joseph Lyerly of Woodridge. Joseph has spent five years participating in active SEASPAR programs such as Karate, Lightning Softball, and Special Olympics Athletics and Swimming. A creative and kind person, Joseph has found great success in Special Olympics sports, including recent gold medal wins at Athletics and Swimming Regional Competitions that are sending him to the Special Olympics State Summer Games in June.
The Shining Star award, which recognizes an outstanding adult participant, was bestowed upon Liam Heraty of Lisle, acknowledging his active involvement in SEASPAR's programming. Heraty's infectious smile and enthusiasm are evident in various SEASPAR programs, including Social Club West, Bowling at Lisle Lanes, Soup or Salad, Spartans Golf, Cooking with SEASPAR, and Yoga with Jen. Heraty is also a valued member of the Darien EAGLES Adult Day Program. "Thank you! I can't believe it!" said Liam as he accepted his award.
Staff and Volunteer Recognition
Micaela Bjarnson of Downers Grove was recognized with the Leading Light Award, an accolade presented to a part-time staff member at SEASPAR for three years or less. Bjarnson's commitment and dependability are evident in her assistance with leading multiple weekly programs and special events. She actively engages in athletics, special events, youth, and adult activities, fostering a positive environment for participants and fellow staff members. "I absolutely love what I do, that's why I work all the time," said Micaela as she accepted her award.
Cheryl and Jason Steed of Downers Grove were honored with the Super Star Award, which celebrates part-time staff members of three years or more. This couple has worked SEASPAR programs for over thirty years and was recognized for their remarkable dedication and support to participants. Their unwavering commitment to working so many programs and providing valuable input to enhance them has made a significant impact. When presented with their award, the Steeds expressed their gratitude for the fulfilling experiences they have gained through their involvement with SEASPAR.
The Naberhaus Volunteer of the Year award was presented to The Home Depot Volunteers of Downers Grove and Woodridge for their selfless volunteer work at SEASPAR's Volleyball Tournament, Swim Meet, and New Year's Bash. These dedicated volunteers, motivated by their passion for helping others, have consistently shown their willingness to lend a hand wherever needed.
Donor Recognition
The Pauley Family of Downers Grove was awarded the Donor of the Year Award for a Family for their long-standing support of SEASPAR. Their generous contributions over the years have made a meaningful difference in the lives of individuals with disabilities.
The Donor Award for a Service Club or Foundation was bestowed upon the Knights of Columbus Robert P. Connelly Council #5918. Recognizing their ongoing commitment to supporting organizations that serve individuals with disabilities, this award acknowledges their longstanding donations to SEASPAR.
SEASPAR also recognized the Morton Arboretum of Lisle as the Donor of the Year for a Business. The Morton Arboretum's collaboration with SEASPAR, particularly through the Nature Play for All event, is based on accessibility in nature for all. SEASPAR families were invited to participate in this free 2-day family event.
The Believe & Achieve Recognition Banquet was a testament to the dedication, talent, and collaborative spirit of SEASPAR's participants, staff, volunteers, and community partners. Their collective efforts have enriched the lives of individuals with disabilities and fostered an inclusive and supportive community.