SEASPAR's Spartans Volleyball White Team earned a bronze medal in a very close competition at the Special Olympics Illinois Fall Games in Rockford on October 28-29!
Congratulations to players Mark Buglio, Sarah Cavanaugh, Nate Church, Melissa Engelhardt, Erin Mannix, Ben Sojka, Molly Sosnowski, and Andrew Worzalla!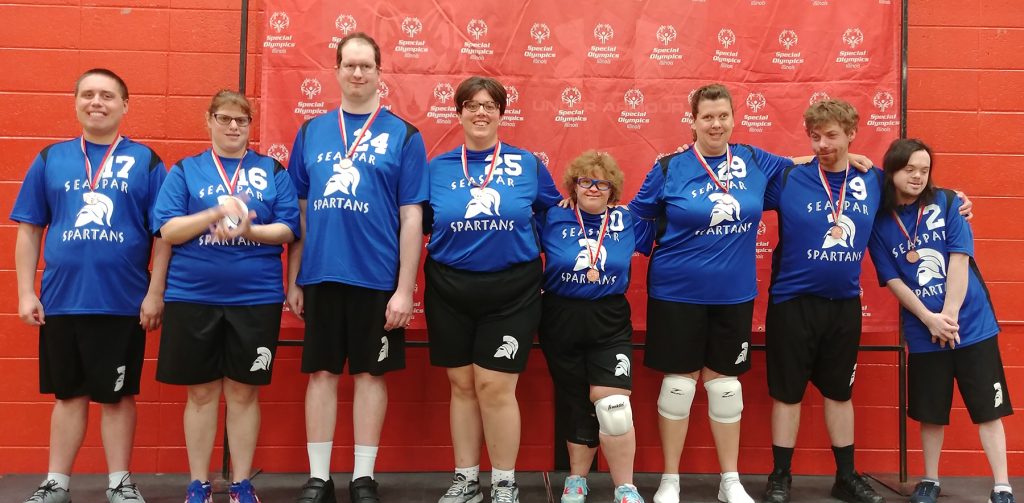 The White Team also competed in the Illinois Park and Recreation Association's Illinois Therapeutic Recreation Section (ITRS) Volleyball Tournament hosted by SEASPAR on October 8 at the Park District of La Grange. The tournament hosted 16 teams from special recreation associations and park districts across northern Illinois. The White Team earned fourth place in its division. View photos from the tournament on Flickr!
Also on October 8, SEASPAR's Spartans Blue Team earned gold in its division at the ITRS Volleyball Tournament hosted by the Orland Park Recreation & Parks Department. Congratulations to players Randy Naberhaus, Wayne Neumann, Jeff Osowski, Tyler Reineke, David Svitak, Samantha Wagner, and Jeff Wiemerslage!
SEASPAR trains athletes for Special Olympics competitions in alpine skiing, aquatics, athletics (track and field), basketball, bocce, bowling, cross country skiing, flag football, floor hockey, golf, gymnastics, powerlifting, soccer, softball, snowshoeing, tennis, and volleyball. Our athletes compete in Special Olympics events throughout the year. Learn more about our Special Olympics program.