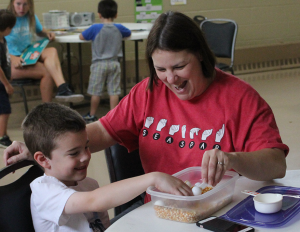 Do you want to make a difference in the life of a child with a disability, and get paid to do it? You're in luck – SEASPAR is hiring part-time staff!
We're currently looking for Inclusion Aides, who are responsible for supporting and assisting one or more individuals with a disability requiring specialized intervention in order to participate in our member entities' programs. Staff are needed to work preschool as well as before- and after-school programs.
Inclusion Aide applicants must be at least 16 years of age. Experience working with people with disabilities may be required. Visit our Employment, Volunteer, and Internship Opportunities page to learn more about working with SEASPAR and to apply online!
If you have any questions, please contact Lisa Barrera, Inclusion Manager, at 630.960.7600.