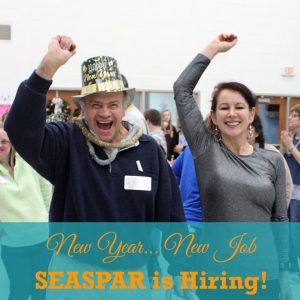 Do you want to make a difference in the life of a person with a disability, and get paid to do it? You're in luck – SEASPAR is hiring part-time staff for the winter-spring season!
We're currently looking for Program Assistants, who advocate for our participants while helping them safely engage in activities including fitness, arts, community outings, dances, organized sports, and much more. Opportunities are available for evening and weekend weekly programs and special events.
Applicants must be at least 16 years of age. Although experience working with individuals with disabilities is preferred, no formal experience is required.
Contact Shannon at 630.960.7600 or stovey@seaspar.org to discuss current opportunities, or visit our Employment, Volunteer, and Internship Opportunities page to learn more about working with SEASPAR and to apply online!