At the Illinois Association of Park Districts' Annual Meeting on January 30, Diane Main presented her 2016 Chairman's Award to SEASPAR participant Michele Forzley.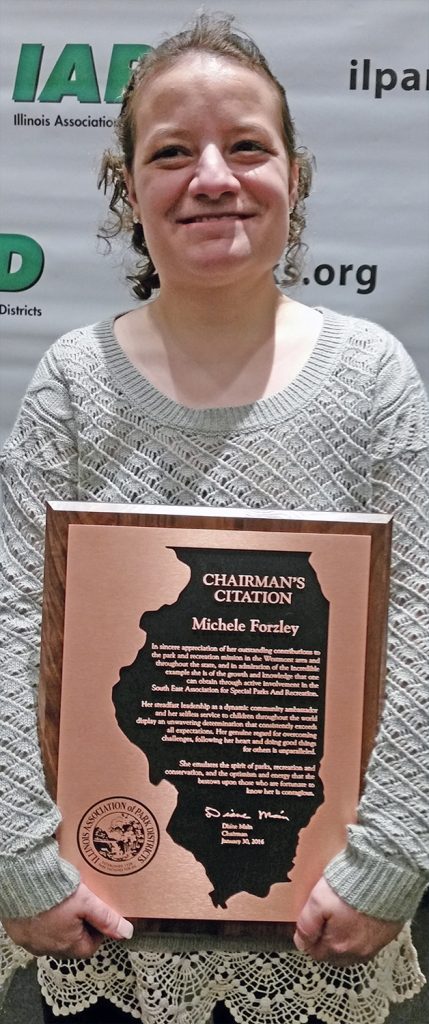 Michele, a Westmont resident, has been participating in SEASPAR programming since 2000, when she was 14 years old. A dedicated athlete, Michele has been involved in a variety of our Special Olympics sports over the years, including basketball, bocce, bowling, golf, softball, and volleyball.
In 2004, Michele was selected as SEASPAR's Athlete of the Year. Two years later, she represented Team Illinois at the Special Olympics USA National Summer Games in the golf (traditional 9-hole) competition.
For the last three years, Michele has qualified for and competed in the Special Olympics Illinois golf competition at the annual Outdoor Sports Festival, medaling in her division each of those years. She is also a defensive specialist in volleyball, and has contributed to her team advancing to the Special Olympics Illinois volleyball tournament at the Fall Games the last three years.
Michele is also a Special Olympics Global Messenger, giving presentations about her involvement and raising awareness of the program throughout Illinois.
However, Michele's involvement with SEASPAR and the community is not limited to athletics. Michele is also part of our EAGLES program as well as an active member of the SEASPAR Kiwanis Aktion Club, having served as treasurer, competed in speech competitions, and contributed to all club projects.
During Kiwanis Peanut Days, Michele is especially motivated to bring in funds that can be donated to her favorite charities. She is a vocal advocate for St. Jude's Children's Hospital, Lurie Children's Hospital, and Ronald McDonald House Charities, just to name a few.
We are very proud of Michele's many accomplishments, and congratulate her on this latest recognition of her character and achievements!