Chef Megan's Mashed Potato Cupcakes Recipe
Everyone loves cupcakes for their fluffy, melt-in-your-mouth flavor, but I like to take this favorite dessert one step further by getting creative with each batch I create. Today's recipe will show you how to create the perfect cupcake that impersonates a side of buttery mashed potatoes and gravy.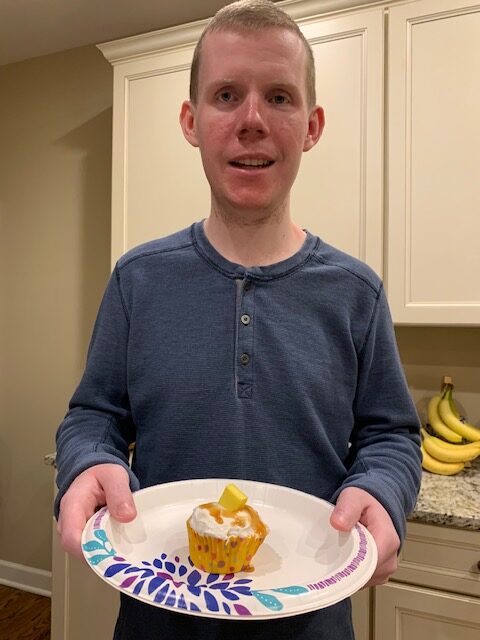 Ingredients
1 1/4

 

cups

 all-purpose flour

1 1/4

 

tsp

 baking powder

1/2

 

tsp

 

salt

1/2

 

cup

 

unsalted butter

 

softened

3/4

 

cup

 sugar

2

 

large eggs

 

room temperature

2

 

tsp

 pure vanilla extract

1/2

 

cup

 

buttermilk

 

or plain kefir, room temperature

Whipped Cream
3/4 cup of Caramel Sauce
12 Yellow Starburst candy (unwrapped)
Instructions
Preheat the oven to 350°F and line a cupcake/muffin pan with cupcake liners.
In a medium bowl, whisk together 1 1/4 cups flour, 1 1/4 tsp baking powder, and 1/2 tsp salt. Set flour mix aside.
In the bowl of an electric mixer, beat butter and sugar on medium-high speed 5 minutes until thick and fluffy, scraping down the bowl as needed.
Add eggs one at a time, beating well with each addition, then scrape down the bowl. Add 2 tsp vanilla and beat to combine.

Reduce mixer speed to medium and add the flour mixture in thirds alternating with the buttermilk, mixing to incorporate with each addition. Scrape down the bowl as needed and beat until just combined and smooth. Divide the batter evenly into a 12-count lined muffin or cupcake pan, filling 2/3 full.

Bake for 20-23 minutes at 350 °F, or until a toothpick inserted in the center comes out clean. Let them cool in the pan for 5 minutes, then transfer to a wire rack and cool to room temperature before frosting.

Top each cupcake with whipped cream to resemble creamy mashed potatoes.

Use a spoon to impress a crater in the center of the whipped cream.
Drizzle caramel sauce within the crater until caramel sauce begins to pour out slightly.
Top your cupcakes with a starburst candy, allowing them to sit within the caramel sauce slightly.
---
Let me know if how your cupcakes turn out and whether they were a hit or not.
From myself and everyone at SEASPAR, Keep on cooking!
-Chef Megan.