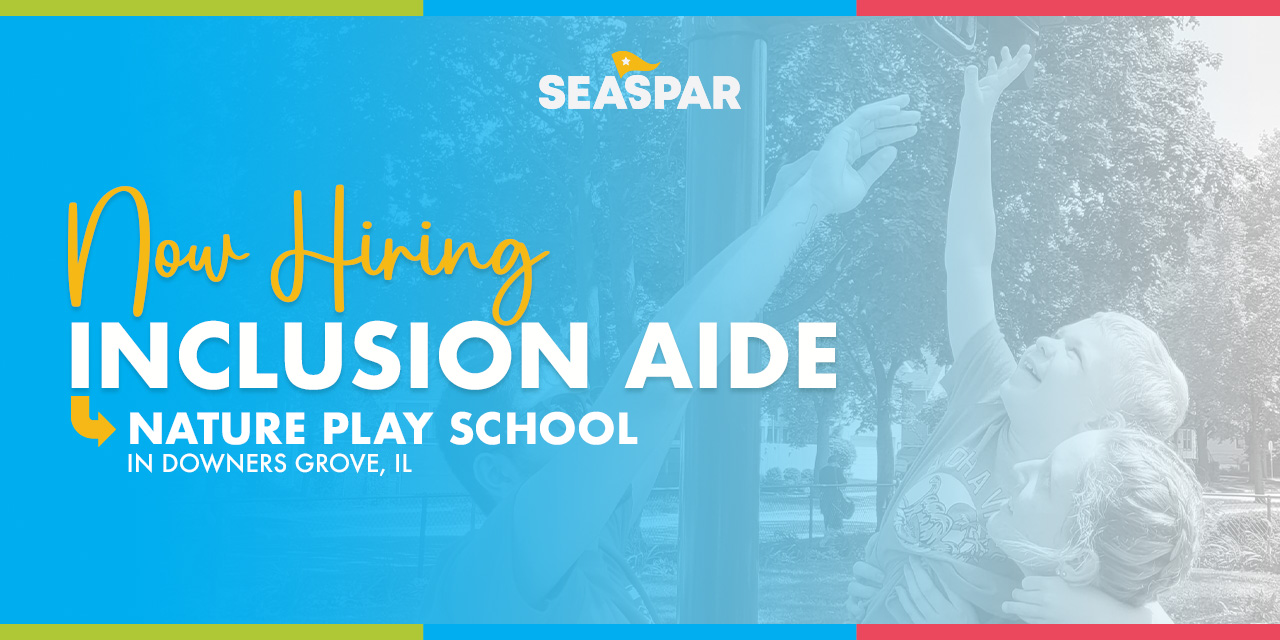 Now Hiring: Inclusion Aide for Nature Play School
SEASPAR is searching for an amazing individual to serve as an Inclusion Aide at the Nature Play School program held at Lyman Woods in Downers Grove. Are you perfect for this job?
Program Details
This program runs on Tuesdays and Thursdays from 9:00 am-11:00 am through May 18, 2023.
Who Should Apply
This job opportunity is great for anyone who understands the benefits of providing children with disabilities with early childhood programming opportunities. 
The role of an Inclusion Aide includes:
Assist and include the individual(s) to participate in all activities in the program.

Adapt activities, rules, equipment, and/or supplies as needed to ensure quality participation and the most independent participation possible.

Act as an advocate for the individual(s) and emphasize the individual's abilities and similarities, while de-emphasizing the differences.

Be alert and responsive to health and safety needs of the individual(s).

Involve yourself with other participants and staff as much as possible to contribute to the whole program and avoid being singled out as a "SEASPAR" staff. Strive to blend in with the other staff and bring as little extra attention to the individual with a disability as possible.

Discuss program activities with program instructors in order to be prepared. Offer suggestions and adaptations, if applicable.

Provide behavior management when necessary.

Feed, diaper/take to the bathroom, lift and transfer individual, if applicable.

Communicate all incidents/accidents to the program supervisor and the Inclusion Manager immediately.

Communicate with parents and Inclusion Manager on a regular basis and complete biweekly summary sheets on the participant's progress.

Be flexible and adaptable to accommodate for fluctuations in schedule.

Follow member entities' policies and procedures.

Read, understand, and abide by all SEASPAR policies and procedures.

Must be dependable and punctual for all programs.

Perform other duties asked by supervisor.
Marginal Responsibilities:
Assist member entity staff with program or other duties, if necessary.

Attend all job-related seasonal orientations/in-services as directed by Inclusion Manager or member district.

Encourage participation and development of friendships with other participants in the program.

Arrive at program site 15 minutes prior to the start of the program.

Assist with loading/unloading of participants if needed.