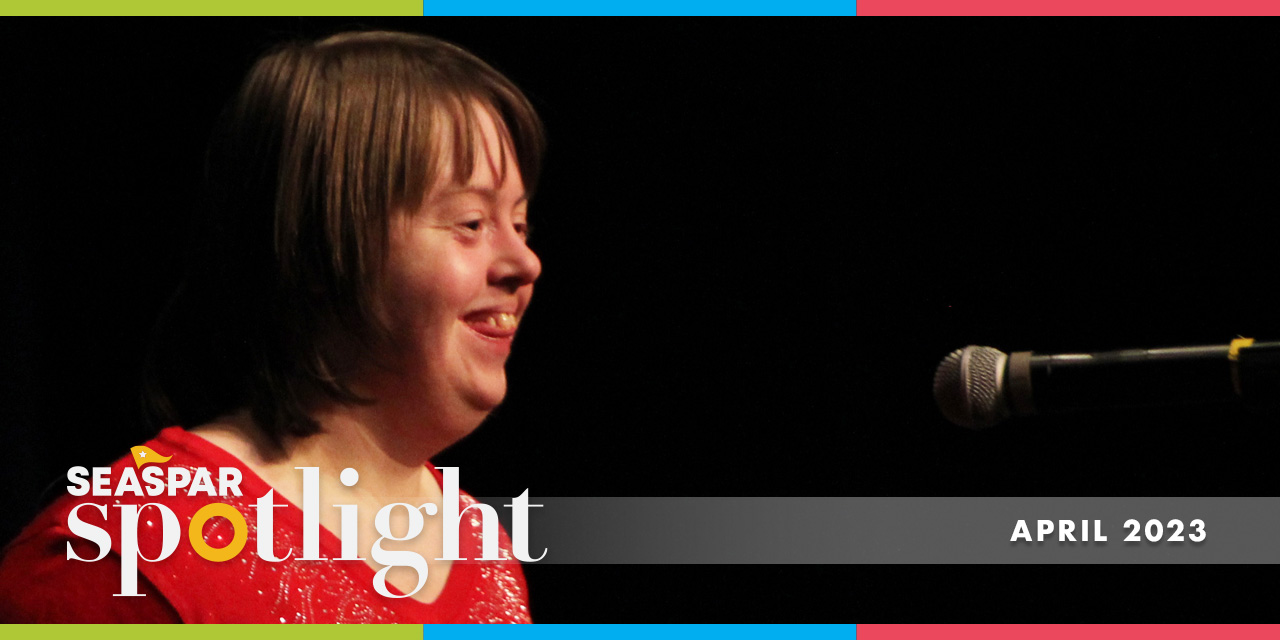 SEASPAR Spotlight: April 2023
Kristen McInerney
With talent and dedication along with unique and impressive skills, this talented entertainer is a superstar on and off the stage! Meet Kristen McInerney, a SEASPAR participant from Westmont. She's a regular performer in the Holiday Spectacular, an annual talent show featuring SEASPAR participants. Usually singing a passionate solo, Kristen's performances are highly anticipated and greatly enjoyed by audiences.
Kristen has also been involved in Actors Guild, SEASPAR's theater performance program coordinated by director Christine Grohne. Kristen has held starring roles and been involved in various Actors Guild plays. Known as a "crowd pleaser," Kristen has a natural ability to connect with audiences and keep them engaged.
An enthusiastic entertainer, Kristen enjoys sharing her many talents with others and has received Music Lessons training and participates in recitals featuring Music Lessons students taught by Nancy Urban. (Mark your calendar for the Spring Recital on Friday, May 5!)
When she's not on stage, Kristen is an active member of SEASPAR's Aktion Club. Aktion Club is a service club for adults with disabilities, and Kristen has acted as the President of SEASPAR's Aktion Club. As the President, she has led initiatives, overseen meetings, and coordinated projects to promote growth and responsibility among its members.
Kristen is keen on supporting SEASPAR's social media endeavors as she shares her insights on posts by SEASPAR, shares posts, and encourages interaction. Her skills in navigating social media platforms and engaging with content are certainly valuable in today's digital landscape, and she has even been recognized for her contributions as a "Top Fan" on SEASPAR's Facebook Page.
Kristen is truly a trailblazer when it comes to expression, leadership, and engagement. Kristen is a shining example of how individuals can make a positive impact in their communities and beyond. We thank Kristen for being part of the SEASPAR family and this month's Spotlight recipient.