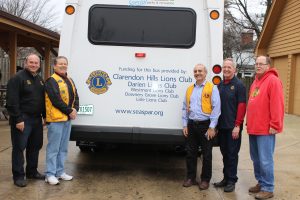 Two years ago, Bill Wilson, a member of the Clarendon Hills Lions Club, suggested that the Club purchase a new bus for SEASPAR. Bill, who is also a long-time athletic coach for SEASPAR, was able to see his idea come to life on November 22, at SEASPAR's bus dedication ceremony. After researching the cost of a bus and the transportation needs of participants, the Club decided to make it happen. Due to the large sum needed for the bus, they asked for support from other Lions Clubs in the area, and received commitments from the Clubs in Westmont, Darien, Downers Grove, and Lisle. By spearheading this effort, they raised $50,000 to donate for the bus.
At the dedication, SEASPAR Executive Director Susan Friend stated "Access to the community and activities is vital to the lives of people with disabilities. For most adults, playing in a softball league, going out to eat, or taking a weekend getaway is simple. They just call their friends and go do it! Adults with disabilities need the support of SEASPAR and others to make doing those basic activities possible. Without the help of others and transportation, it couldn't not happen. Children with disabilities need exposure to the greater community too, for the development of physical and cognitive skills and to practice social skills. Transportation allows them access to opportunities that aid in their development."
SEASPAR expresses its appreciation to Bill and the Clarendon Hills Lions for taking on this challenge and to the other Clubs who stepped up to make this a reality.