Two SEASPAR golfers earned medals at the Special Olympics Illinois Outdoor Sports Festival on September 10-11!
The Outdoor Sports Festival is one of nine state sports competitions, and the final competition for those participating in softball, tee-ball, and golf. Approximately 600 athletes qualified for the event at the Rotary Park and Hickory Point Golf Course in Decatur.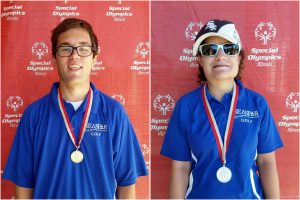 Two SEASPAR golfers qualified to compete in the event's 9-Hole Golf competition. Mark Maloney of Downers Grove earned a gold medal for the second straight year. Maloney has competed in four of the last five Outdoor Sports Festivals. Michele Forzley of Westmont earned a silver medal, having qualified for the competition the last four years and finished in the top three of her division each year.
Congratulations to Mark and Michele on their hard work and accomplishments!