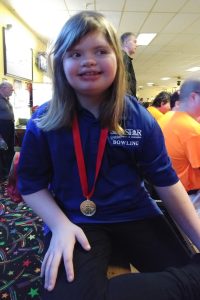 An athlete trained by SEASPAR earned a gold medal at the Special Olympics Illinois State Bowling competition in Peoria on December 2!
The Special Olympics Illinois State Bowling competition is one of nine state tournaments held each year, and the final state competition for singles, doubles, team, and ramp bowling events. Athletes must qualify in both Area and Sectional competitions to advance to State Bowling. Of more than 6,000 Special Olympics bowlers statewide, approximately 300 athletes qualified to compete at the State competition.
SEASPAR's Abby Benco of Woodridge earned gold in the Area and Sectional singles competitions to qualify for the State tournament, where she earned a gold medal in her division. At just 13 years old, Abby is our youngest bowler, and this was her first year competing in Special Olympics Bowling!
We train athletes for Special Olympics competitions in Alpine Skiing, Athletics (track and field), Basketball, Bocce, Bowling, Flag Football, Floor Hockey, Golf, Gymnastics, Powerlifting, Soccer, Softball, Snowshoeing, Swimming, Tennis, and Volleyball. Our athletes compete in Special Olympics events throughout the year. Learn more on our Special Olympics page.