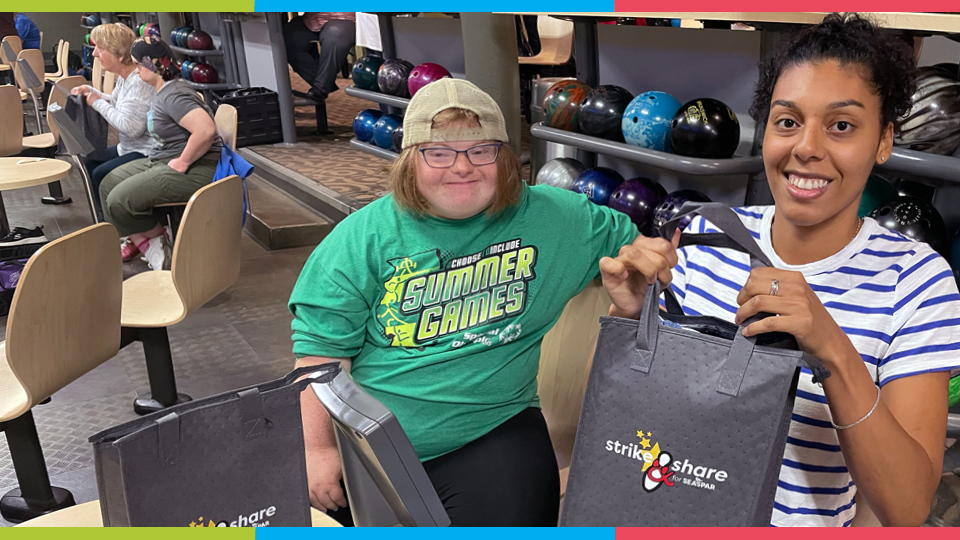 The much-anticipated Strike & Share for SEASPAR bowling fundraiser took place at Suburbanite Bowl on Sunday, September 17, raising more than $6,000 for SEASPAR's programs and services!
The event started promptly at 11:30am, with participants eagerly arriving at the bowling alley. The atmosphere was filled with excitement and anticipation as bowlers prepared to showcase their skills and support a worthy cause.
Sponsored lanes were formed for SEASPAR participants and community members. It was heartening to see the inclusive nature of the event, as individuals from all walks of life came together to enjoy a fun-filled day of bowling.
The lanes were abuzz with activity as participants aimed for strikes and spares. There were moments of triumph and moments of laughter as bowlers cheered each other on, regardless of their skill level. The event fostered a sense of camaraderie and unity among the attendees.
Throughout the event, participants had various opportunities to contribute to SEASPAR's mission. Raffles and donation boxes were set up, allowing attendees to show their support in more ways than one. It was inspiring to witness the community's generosity, as people dug deep to make a difference.
In addition to the bowling action, the event also featured a variety of refreshments and snacks. Participants took breaks from the lanes to refuel and socialize, further strengthening the sense of community.
As the clock struck 2:00pm, the Strike & Share for SEASPAR bowling event came to a close. The day had been a resounding success, both in terms of raising funds and raising awareness. SEASPAR would like to extend its heartfelt gratitude to all the participants, volunteers, and sponsors who made the event possible.
Generous sponsors of the event included Eileen Kenah – A Keller Williams Experience, The Clancy Family, Dr. Robert F. Girgis, 5-3 Digital Consulting, Life's Plan Inc., HEXSOX Grip Socks, Kane County Cougars, Lemont Park District, Local Printing + Design, MG Computer, Paramount Theatre, Suburban Family Magazine, Trader Joe's Downers Grove, Woodridge Park District, Zigfield Troy Golf, Clancy & Associates, The Clubhouse Therapy Centers, Downers Grove Park District, Dynamic Lynks, Hummingbird Pediatric Therapies, and Nazareth Academy.
Overall, the Strike & Share for SEASPAR bowling event was a testament to community and inclusivity. It provided an opportunity for individuals with disabilities to showcase their talents and be part of a larger cause.
SEASPAR looks forward to organizing more events in the future, with the hope of continuing to make a positive impact in the lives of individuals with disabilities. Together, we can strike down barriers and share the joy of recreation for all.