UPDATE: Registration for SEASPAR's summer day camp has been extended to Friday, May 6, at 4:30 p.m. Online registration remains open for the La Grange/LADSE Camp, but registration for Kids Camp and Teen & Adult Camp must now be done offline. See registration options at the bottom of this page. 
Welcome to Camp SEASPAR! Camp SEASPAR believes that every child deserves great a camp experience, which is why all of SEASPAR's camp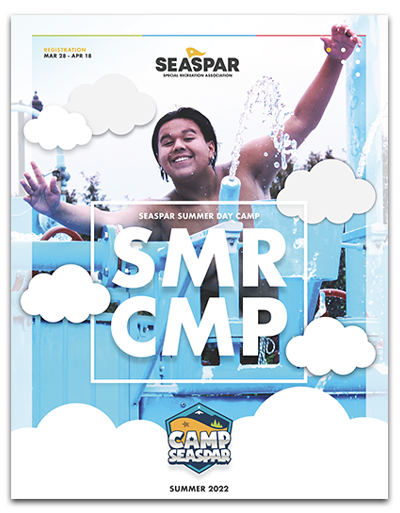 options are packed with dynamic activities, memory-making opportunities, community engagement, designed specifically for people with disabilities ages 5 to 22 years of age.
Your best summer ever begins here! Summer day camp at SEASPAR offers camp options for children ages 5 to 12 years, and teens and adults ages 13 to 22 years, as well some extended school year options. All camp options have been thoughtfully redesigned for 2022, and offer safe programming without compromising on fun. View all of our offerings in our summer day camp guide online.
Safety First!
COVID-19 Mitigations and Summer Day Camp Eligibility
SEASPAR is aligned with the current CDC, state, and local guidelines for COVID-19 mitigation. Currently, mask wearing is optional at SEASPAR programs. We respect individual choices and comfort levels. 
There are still situations in which masks are required. Here are some important reminders and safety guidelines for participants and staff.
Due to the close proximity, masks are required while traveling on a SEASPAR vehicle. This is in the interest of everyone's safety.

 

Participants and staff should always bring masks if we travel to a facility that requires masks. Wherever we go, we expect all to follow the rules of the facility.
If an extended amount of time is required to assist a participant with any personal care (e.g., assisting with mobility, eating, or in a bathroom), both participants and staff are required to wear a mask during that time.
SEASPAR will continue to practice safe hygiene and precautions with frequent hand washing and sanitizing, and disinfecting supplies and equipment.
To prevent the exposure and possible spread of any contagious illnesses (COVID-19, common cold, or flu), participants must refrain from attending programs if they are exhibiting symptoms such as fever, stuffy nose, cough, sore throat, muscle ache, headache, nausea, vomiting, or diarrhea.

 

For everyone's safety, if a participant is exhibiting symptoms of illness during a program, they will be removed from the group and an approved adult will be required to pick them up.
Participants may return to programs after quarantine or isolation, based on the current CDC, state, and local guidelines.
For summer day camp, SEASPAR has established eligibility and safety guidelines for staff and participants. Please refer to the list below to determine your first steps for registration. 
Children who have participated in SEASPAR in-person programming since fall of 2021 are eligible for summer day camp and do not require any type of assessment. Parents/guardians may register for summer day camp beginning March 28.
Children who participated in SEASPAR summer day camp in 2021, but have not participated in programs since, are eligible to register for summer day camp beginning March 28. Once your registration is received, SEASPAR staff will reach out to schedule a follow-up call to get an update on your child's needs so we are prepared to support them this summer.
Children who have not participated in SEASPAR in-person programming since March of 2020 will be required to complete an assessment to determine eligibility prior to registering for camp. Once a Participant Assessment is submitted, staff will follow up to schedule a meeting (either Zoom or in-person) to learn more about the participant and determine eligibility for camp. A Participant Assessment may be completed online at SEASPAR.org/participant-assessment or by calling 630.960.7600. Take the Participant Assessment now.
As always, evaluations of reasonable accommodations are made on a case-by-case basis to ensure that SEASPAR has as much information as possible about the specifics of the request being made, and SEASPAR retains the right at all times to re-evaluate participation when a situation is creating a direct threat of safety.
Summer Day Camp Registration
Please review the participant eligibility requirements above prior to registering. The extended summer day camp registration deadline is Friday, May 6 at 4:30 pm.
We hope we are able to make it a summer of SEASPAR for your child! If you have any questions, please contact Molly Downing via email at daycamp@seaspar.org or by phone at 630.960.7600.