We are proud to report that SEASPAR's 14 athletes who competed at the Special Olympics Illinois Summer Games earned a total of 25 medals, including 17 gold, at the competition held at Illinois State University June 9-11. Twelve of the athletes earned at least one gold medal!
The Summer Games is the largest of the more than 175 Special Olympics competitions held throughout Illinois each year, and is the final state competition for Aquatics, Athletics (track and field), Bocce, Gymnastics, Powerlifting, and Soccer. Approximately 4,000 athletes competed at the event at the Illinois State University campus. SEASPAR trained athletes in all six sports of the competition.
Powerlifting
SEASPAR's two Powerlifting athletes both earned multiple medals:
Emily Lundvall, Westmont: Gold in both Bench Press and Combination. Silver in Deadlift. Set a new personal record for Deadlift!
Allen Rosete, Darien: Gold in Bench Press and Deadlift. Silver in Combination. First-time Powerlifting competitor!
Artistic Gymnastics
The three Artistic Gymnastics competitors trained by SEASPAR also earned multiple medals:
Bridget Brown, Darien: Gold in Balance Beam. Silver in Uneven Bars. Fourth in Vault. Fifth in Floor Routine.
Anna Cavallo, Downers Grove: Gold in Balance Beam, Uneven Bars, and Vault. Fourth in Floor Routine.
Kari Winter, Downers Grove: Gold in Uneven Bars. Silver in Vault. Fifth in Balance Beam and Floor Routine.
Aquatics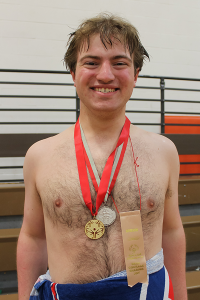 Five athletes represented SEASPAR in Aquatics events:
Ryan McGuire, La Grange: Gold in 25M Freestyle and 25M Backstroke. First-time Summer Games competitor!
Mark Ploskonka, Darien: Gold in 50M Freestyle. Bronze in 50M Backstroke.
William Porch, Westmont: Silver in 50M Backstroke. Seventh in 50M Freestyle.
Sam Smetko, La Grange Park: Gold in 50M Backstroke. Silver in 100M Freestyle.
Chris Tegeler, Darien: Fifth in 50M Backstroke. Seventh in 50M Freestyle.
Ploskonka, Porch, Smetko, and Tegeler: Gold in the 4X100M Freestyle Relay.
Soccer
One SEASPAR athlete participated in the Soccer competition on the cooperative team representing SEASPAR and the Lily Cache Special Recreation Association, which serves the Bolingbrook and Plainfield Park Districts. Nate Church of La Grange earned a gold medal with his teammates.
Athletics
SEASPAR was represented by one competitor in Athletics (track and field). Michael Drabik of Woodridge earned a bronze medal in the Pentathlon, which comprises five different events: 100-Meter Run, Long Jump, Shot Put, High Jump, and 400-Meter Run.
Bocce
Mark Buglio of Lisle and Amanda Skozinski of Downers Grove teamed up to represent SEASPAR in the Bocce Traditional Doubles event, earning fourth place in Skozinski's first Summer Games competition.
Join us in congratulating these athletes on their hard work and well-deserved recognition!
Check out photos from the Summer Games in the gallery below, or view the photos on Flickr!