On October 21, SEASPAR hosted our fifth annual Trivia Challenge fundraiser at the American Legion Post 80 in Downers Grove.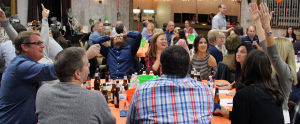 More than 220 SEASPAR supporters tested their trivia skills at the event, answering questions about pop culture, politics, history, and science, plus playing a delicious round of "Name That Jelly Belly." The winning team correctly answered 63 of 80 questions and won a $500 prize, which they generously donated back to SEASPAR.
The event raised more than $7,500 to support SEASPAR's recreational programs and services for individuals with disabilities served by our member entities.
Generous sponsors of the event included Al's Char-House, Anderson's Bookshop, Barbakoa, Best Buy, Brick House Tavern + Tap, Brio Tuscan Grille, Buca di Beppo, Capri of Downers Grove, Caputo's Fresh Market, Carlucci, Carrabba's, Chama Gaucha Steakhouse, Chick-fil-A, Sandy Colangelo, Cooper's Hawk, D.J. Sports Bar and Grill, Devon Bristol Seafood Grill, Downers Grove Park District, Downtown Downers Grove Management, Egg Harbor Café, Emmett's Ale House, Exxon Mobil, Fresh Thyme Market/Downers Grove, Fullserv Oil change, Giordano's Pizza, Bob Goste, Heritage House Florist, Hilton Doubletree, Hilton Lisle/Naperville, Home Depot, Honey-Jam, Jameson's Charhouse, Jewel-Osco, Jolie Boutique, Juicy O Restaurant, King Keyser Specialty Sports, Kohl's Cares, Olive Garden, Panera Bread/Woodridge, Pappa's Pizza, Parkers' Restaurant & Bar, Q-BBQ, Redstone, Rocco & Rocco, Rock Bottom, Spenga, Spice Merchants, Starbucks, Suburbanite Bowl, Teddy's Red Hots, The Baked Apple Breakfast Co., Tivoli Theatre, Trader Joe's, True Balance Karate, Weber Grill, Westin Hotel/Lombard, and Wheatstack.