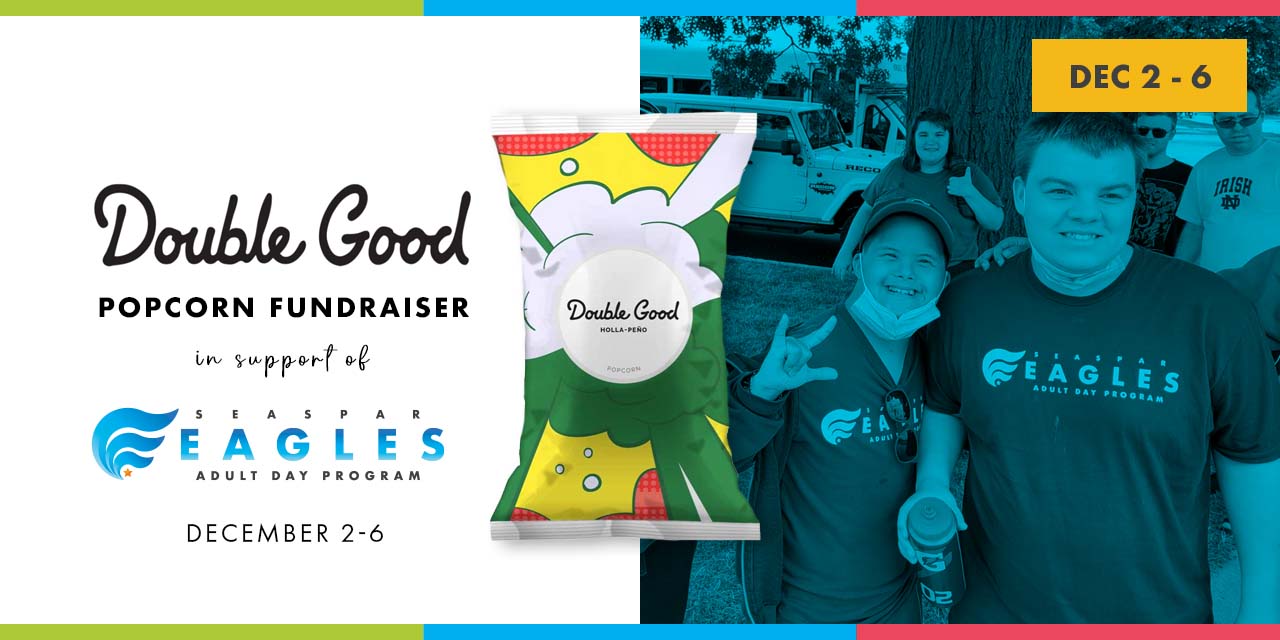 SEASPAR has set up a DoubleGood Popcorn Fundraiser to support the EAGLES Adult Day Program, and we need your help!
DoubleGood Popcorn is an award-winning, 100% contactless virtual fundraising platform offering ultra-premium gourmet popcorn for sale. The best part is for each product sold, SEASPAR will receive 50% of the profit. Our virtual fundraiser begins at 5:00 pm on Friday, December 2, and runs through 5:00 pm on Tuesday, December 6. Our goal is to raise $4,000 in just four days! Can you lend a hand?
Ready to help? Scroll to the bottom for the next steps.
Still not sure? Read on.
Have you heard about the wonders of virtual fundraisers?
Virtual fundraisers, like SEASPAR's DoubleGood Popcorn Fundraiser, are a smart, easy way to raise funds using popular social media sites like Facebook. Like "viral" content, virtual fundraising can spread quickly, garnering support and reaching goals in a short timeframe through participation from many.
While every purchase of ultra-premium (award-winning) popcorn counts towards the overall goal, creating and sharing your own "pop-up" store is the key to success. By creating and promoting your own "pop-up" store in support of SEASPAR's DoubleGood Popcorn Fundraiser, you're helping us reach a wider audience, increasing its impact.
Can you support SEASPAR's DoubleGood Popcorn Fundraiser? Supporting this fundraiser is quick, easy, and won't ask you to handle money or product – ever! All we request (after setup) is to share your pop-up store on your favorite social media site.
Let's Get Ready to Fundraise!
Here's what you'll need to do:
1. Download the DoubleGood app. The DoubleGood app is available for free on iOS and Android.
2. Enter our Event Code HVKQPL in the app.
3. Create your Pop-Up Store.
4. Share with your friends and family starting December 2.
To sweeten the deal, you'll earn one (1) raffle ticket for every $50 worth of product sold at your pop-up store. The winner of this raffle will receive one of the following prizes of their choice:
Option 1: A $250 Gift Certificate and guaranteed enrollment to one weekly program or specail event of choice for SEASPAR's winter-spring 2023 season.
Option 2: A $100 Visa Gift Card.
The drawing will be held on Monday, December 14.